Why Buy a Vehicle with Your Tax Return?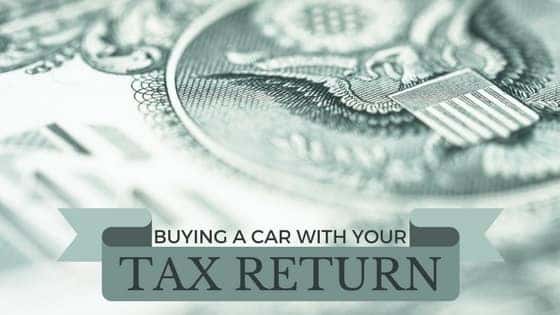 It's that time of year once again. April 18 was tax day, and while many people dread the day, it's generally good news! Nearly 80 percent of U.S. citizens should expect to get a tax return averaging $2,800, according to CNN. Your tax return is essentially a refund of what you've overpaid throughout the year in taxes. It allows most Americans the opportunity to pay down debt, add to their savings, or in many cases, replace their current vehicle with something more reliable.
Many people wonder if it's worthwhile or beneficial to spend their tax return on a car or truck. What benefits are there? From lower payments to special spring savings events, there are quite a few good reasons to pull the trigger on a new vehicle with your tax return if you have healthy finances.
Reduced Interest – Lower Monthly Payments
One of the best reasons to purchase a vehicle with your tax return is the ability to pay more down on the vehicle to reduce your monthly payments. The barrier of entry can be high to purchase a good vehicle, and a tax return is a predictable time that many people experience a large influx of funds to use for a down payment. The more money you're able to put down when you first purchase a car or truck is less you have to pay over the term of your loan.
Interest can add even more to the cost of your vehicle by cutting a percentage off the top of every monthly payment. The more you can pay up front to counteract this interest, the better. If you've already saved some money for purchasing a vehicle, adding in your tax return to that amount could save you in the long term, which means you'll have less debt to pay off.
When you decide to use your tax return on a vehicle, it's a good idea figure out what you can afford as a monthly payment. There are many ways to create budget documents, and you'll want to determine how much of your 'free money' per month you can devote to a new or used car payment. You can use our simple payment calculator to determine the maximum vehicle price you can fit on your budget.
Combine Your Down Payment with a Trade-In
Not only can you utilize your tax return to purchase a new or used vehicle, you can also leverage the vehicle you're replacing. At Safford of Warrenton, we believe in giving proper value for your trade-in. You can use our simple tool to estimate the value of your trade-in and save a ton of time in the process.
When you combine a trade-in with a tax return to put towards a new or used vehicle, you could see big savings. Whether you're looking for a car or truck, putting the most money possible as a down payment will end up saving you stress and money in the long run.  When you invest the money from your tax return and old vehicle up front, you save each month of your auto loan through lower monthly payments and fewer total payments.
When to Wait Instead of Pulling the Trigger
You'll want to make sure your credit is healthy enough to get a great interest rate on your vehicle loan. If your credit isn't in the right place, it might make the most sense to pay down some of your other debts. This will improve your credit score and allow you to take out loans with better interest rates at a later time. Even if that means you have to bite the bullet and wait six months to another year to get the car or truck of your dreams, it's the best way to avoid expensive or unfair interest rates.
At Safford of Warrenton, we want to put you in the ideal vehicle for your budget. If you're in a healthy position to buy a new or used vehicle with some help from Uncle Sam, give us a call today at (888) 541-8750 or browse our selection of vehicles to find the right vehicle for you. We're here to ensure you find your perfect automotive match, and our service center will keep you running strong for the life of your vehicle.