Which Duty Ram is Right for You?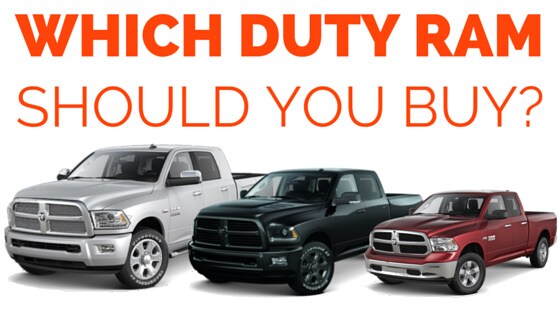 "Which duty or class of Ram truck do I need?" That's one of the first key questions anyone who's looking for a pickup truck must ask themselves. Before deciding on color or extra features, you have to know what you'll need to be hauling with your new Ram. This guide aims to help educate and inform you on the potential hauling capacity of the many Ram options available, so you can make the informed decision for yourself!
First, before going into the nitty-gritty, it's important to understand how a "class" or duty of truck is determined. To learn that, you have to understand Gross Vehicle Weight Rating:
Gross Vehicle Weight Rating (GVWR)
This references the total gross maximum weight a vehicle can operate at. This includes the vehicle itself (and all internal parts), as well as fuel, accessories, passengers and cargo. The number does not include any attached trailers.
In the United States specifically, the two milestone GVWR numbers to keep in mind are 6,000 lbs and 8,500 lbs. Any vehicle over 6,000 lbs can be potentially restricted from certain city roads, whereas vehicles over 8,500 lbs are required to have special insurance.
If you aren't into all the technical details, that's okay too. The number you should really be interested in is towing capacity. That's the key to figuring out what your new rig can haul along behind it.
Now that we've covered some technical details to keep in mind, let's explore light, medium and heavy-duty vehicles in greater detail.

The two light-duty Ram options available are the older Dakota and the Ram 1500. The Dodge Ram 1500 may be a light-duty vehicle, but it's no slouch in terms of towing capacity. With a range of towing capacity between 10,000 lbs and 10,650 lbs depending on which vehicle model you choose, you'll be able to move a lot of weight. The best part about the new Ram 1500 models is that they range between 22 and 29 highway MPG, which puts them well above other competitor trucks. That allows you to tow more for less money on the road. A definite perk, and strikes the hammer directly between power and efficiency, which is why it's the most popular of all of the Ram models.
What does a 10,000 lb towing capacity actually relate to in the real world, though? Well, you won't be able to pull a mobile home or a large RV. That's peaks the limit of the 1500's capacity. However you can pull most medium-sized boats, ATVs, motorcycles and pop-up RVs with relative ease. That makes the Ram 1500 ideal for the owner who wants to take the family on an adventure without being too bogged down with stuff.

The Ram 2500 takes things up a notch in terms of towing capacity from the 1500. If you found the towing examples of the 1500 to stretch your imagination a little too thin, what about if you could tow a whopping 17,000 lbs? Well, the 250 can do just that. The hit you take in gas mileage is significant (they average around 15 MPG between highway and city), but if being big and hauling lots of stuff is what you're all about, then we understand not really caring about the drop in your fuel efficiency.
As far as what you could conceivably haul, why not start with a couple of Ram 1500s at the same time? Yep, the 2500 can take care of it. What about 200 bags of cement? Easy. You still aren't at the range of pulling a fifth wheel trailer, but you could take the largest travel trailer anywhere you'd like with extra capacity to spare.

This is for the serious haulers. Or really anyone that wants to be the biggest, meanest truck in town. If you really need to take that fifth wheel out on the road, only the 3500 will do. How you ask? A 31,000 lb towing capacity, that's how.The best part is that between this Ram and the Ram 2500, your average MPG only drops to 14, which is a lot easier to swallow in the gas budget.
Let's take a look at some of the fun things you can tow with the Ram 3500. Remember the 2500 hauling 200 bags of cement? You could go ahead and drive it on to a second trailer, and then haul both the truck and cement with the Ram 3500. That's a pretty impressive leap in towing capacity. Have a few station wagons that need disposing of? You could easily load up eight of them and take them to the nearby car graveyard. You can pull your fifth wheel trailer with extra towing capacity available to take a spare car or a couple of road hogs on your journey.
Conclusion
As you can see, Ram basically has the full spectrum of towing capacity covered. The decision truly lies within yourself. Do you need to pull virtually anything or just a few specific things? Are you a commuter who values the extra gas mileage? Hopefully, this guide helped you discover the one true Ram for you.
If you're interested in comparing pricing on these Rams, you can go ahead and check out our new inventory of vehicles. We've got a wide selection of Ram trucks that will fit your budget and payload needs.