What is Express Lane Auto Service?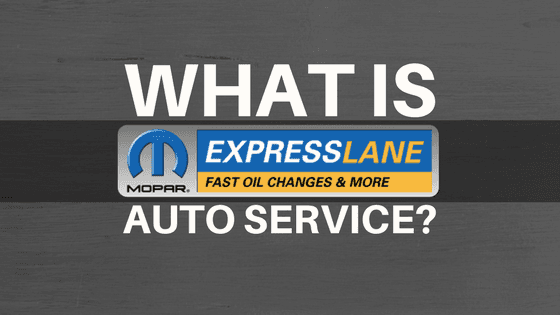 If you own a Chrysler, Jeep, or Dodge vehicle, you've come to expect the expert care and trust from a genuine Mopar service experience. At Safford of Warrenton, we have a full crew of certified Mopar Express Lane professionals ready to ease the stress of vehicle maintenance and repairs. There are a variety of important reasons to regularly service your vehicle, and we always recommend getting a read of your vehicle's health. But what exactly is the Express Lane and why should you use it?
Customer-First Mentality
The first rule of the Express Lane experience is that your time is the most valuable asset to us, and we won't abuse it. Our expert technicians already have a head start because they already know your vehicle front-to-back — from the whole engine to the circumference of your gas cap. Fitting a vehicle service appointment into your busy life is never an easy task, which is why we're open on Saturdays.
Did we mention you never need an appointment? When you have the chance, just pull up anytime and we will make it our priority to ensure you're helped the second we have an opening. It's that easy to drive up and drive away.
We Keep the Whole Vehicle in Mind
Whenever you come in for an Express Lane experience, you can rest assured that we aren't worried only about the most pressing matter of your vehicle. We look at the car as a whole. The wear and tear that can accumulate over time is often overlooked, but you can avoid costly repairs down the road with a simple fix here and there.
That's why every oil change performed at Safford of Warrenton is accompanied with a free vehicle safety inspection. We'll take a look all over your vehicle to identify anything that needs immediate attention, as well as things that might need to be looked at in the future. All of this is to help keep you more informed about your vehicle's overall condition. That's the Express Lane difference.
Finally, Express Lane professionals keep a comprehensive and regularly updated maintenance log of each and every vehicle we service, so when it comes time to sell your car or truck, you'll have proof to show how often your vehicle was maintained.
Convenience is Key
When you do have to fit a service appointment into your busy schedule, we know what a headache that can be. It's never ideal to be left without a car for any length of time. At the Safford Express Lane, making your vehicle's service as convenient as possible is our priority.
For starters, when you want to get in and out as quickly as possible, the fastest way to do that is through our online service scheduler. Simply enter a few key details about your car and the service you'd like completed, and we will find the soonest available service time. Anything from an oil change to a full transmission replacement is available to schedule with Safford of Warrenton.
For those situations where you need to leave your car with us, we have a free shuttle service to assist you in getting anywhere around town you need to be. You can put your mind at ease about leaving your vehicle with our trusted team of service pros while you get your business done around town.
Virginia State Vehicle Inspections Done Fast!
When you're getting repairs, an oil change, or other regular services, why not go ahead and get your annual Virginia state safety inspection? Better yet, if you purchase your next vehicle from Safford of Warrenton, your state vehicle inspections are free for life!