Top 10 Car Gadgets for Father's Day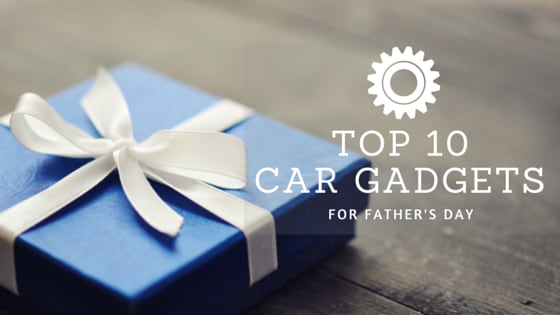 We face it a minimum of three times a year – birthdays, Christmas and Father's Day. Your dad is the best in the world, but shopping for him is a challenge.
Put down the tie. Nevermind the cheesy "#1 Dad" t-shirt. Step away from the power tools. We've got the top ten car gadgets your Papa needs this Father's Day.
For the Practical Dad
6-in-1 Tire Pressure Gauge Multi-Tool – $10
This handy multi-tool from Swiss Tech is MacGyver's dream! A pressure gauge, tread depth gauge, LED flashlight, bottle opener, flat screwdriver and key ring quick release all in one tiny tool.
Car MD – $120
Even if your dad is good with cars, it's often difficult to pinpoint an exact problem when that "check engine" light flips on. Car MD takes the guessing out of car diagnosis by reading the error code, so your dad can save time searching for answers and the hassle of second guessing mechanics.
Portable Power Bank and Vehicle Jump-Starter – $130
If Tim Taylor taught us anything, it's that dads need more power. With Powerall Deluxe's Power Bank, not only can you charge your phone or tablet, you can also jump start your car. This 12,000 mAh lithium battery can jump start a car 20 times on a full charge and comes with several accessories including a USB charging adapter cable with multiple device tips, a jump-start cable as well as AC and DC chargers.
For the Tech Savvy Dad
LyfeLens – $300 ($200 if you pre-order)
Car alarms are great but aren't much help if you're not within earshot. And what about accidents? Often it's just your word against the other driver's. LyfeLens helps to eliminate those problems. It's a dash cam that keeps you connected to your car, no matter where you are. Real-time alerts sent to your phone and HD duel cameras will give you a full picture of all types of events, from theft to hit and runs and accidents. It also contains a 4G LTE hotspot, so you're never out of touch on your commute. LyfeLens is a tech-savvy dad's dream!
MagBak Case – $40
If you dad is particular about the appearance of his car and doesn't want a bulky phone mount in the way, MagBak is the perfect solution. This fully funded Kickstarter project is the world's thinnest car mount. The minimalist protective case is embedded with industrial strength rare earth magnets along with the aluminum MagStick allow you to mount your phone on any surface – fabric, leather, glass, even wood!
Bluetooth Home Button – $25
Make driving safer with the Satechi Bluetooth Home Button which can be attached various places in the car to give the driver access to Siri without taking their eyes off the road. Asking for directions (which your dad would never do), making calls, texting, checking the weather and more has never been easier.
For the Nerdy Dad
Flux Capacitor USB Car Charger – $25
Great Scott! With the Flux Capacitor USB Car Charger, your dad has the perfect excuse to turn up Huey Lewis and drive 88 mph while charging his phone or practically any other USB-powered gadgets. With two ports and the signature light pattern, the Flux Capacitor USB Car Charger is completely Doc Brown approved. Heavy.
Star Wars Millennium Falcon Windshield Sunshade – $20
Anyone can buy a sunshade, but your Star Wars loving dad deserves more than some generic aluminum screen. With the Star Wars Millennium Falcon Windshield Sunshade, he can protect his car (or small spacecraft) from the sun with Han Solo, his first mate, Chewbacca, and friends.
For the Outdoorsy Dad
Truck Tent – $180
Camping after rain can get messy, but with the Rightline Gear Truck Tent, there's no reason for your dad to sleep on the soggy ground. The floorless design allows the tent to be set up without removing items from the truck bed and it's also equipped with all the features you're used to from a standard tent – a lantern hook, a sky view vent, and pockets.
Trailer Hitch Stand and Cradle Chairs Set – $280
Whether your dad loves tailgating, camping or fishing, the Hammaka Trailer Hitch Stand, and Cradle Chair Combo are perfect for outdoors father. Just mount the frame on the hitch of your truck or RV and enjoy all the beauty nature has to offer.