The Most Dangerous Intersections in Warrenton, VA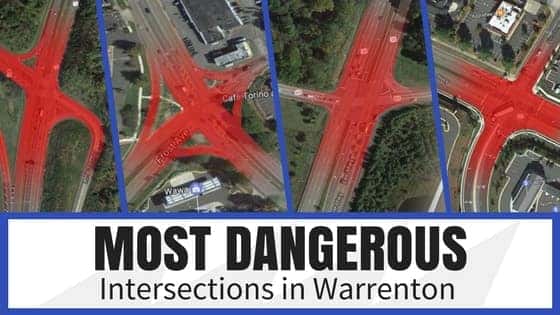 In the small town of Warrenton, we are proud to enjoy safe roads, overall. However, we still have some intersections that are more dangerous than others. Here at Safford of Warrenton, we dove deep into crash data from the past 12 years to find the most dangerous intersections in our town. Thanks to the incredible data collected by the Virginia Department of Transportation, we found the few standout intersections that are worth approaching with extra caution to keep yourself and your family safe.
Because Warrenton is surrounded by highway systems, highway exits have resulted in more collisions over time than intersections within our town's center. Those intersections give the most opportunity for collision, since everyone leaving and entering Warrenton throughout the day generally must travel through them. Even individuals simply passing through have to pass these exits. We also noticed a couple of intersections in town that were particularly problematic to navigate. Read through our list below, and let us know what you think in the comments! If you think other intersections should be included, let us know.
W Lee Highway and Fletcher Drive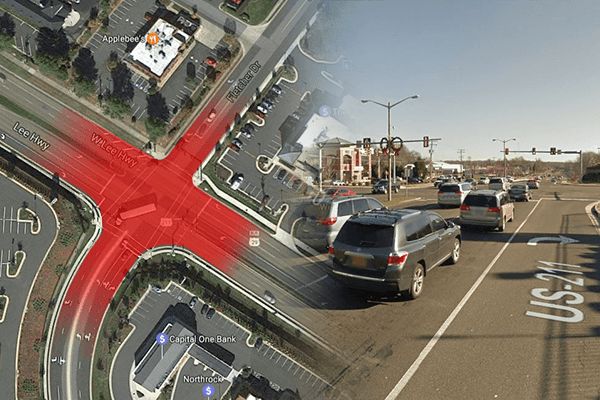 Lee Highway makes it onto our list twice, and the Fletcher Drive intersection is particularly busy. Many different fender benders have happened here over the years, mainly due to its close proximity to high-volume retail at the North Rock Shopping Center. Since the shopping center rests up higher than Lee, the only entrance to the parking lot exists on the Fletcher side of the intersection. In addition, the lack of center turn lanes makes it a challenge to navigate this cramped and curvy road.
The majority of collisions at this intersection are the result of rear-ends from driver negligence when stopping for the light. Additionally, there are a high number of angled and sideswipe collisions. These are attributed to drivers aggressively merging into the appropriate turn lane when they're running out of time to make their turn. In the past decade, this is the only intersection where an accident has been reported as a fatality in Warrenton.
The best way to improve your safety at this intersection is to always slow down when approaching, as abrupt stops may occur without warning. You should also plan ahead and get into the most appropriate lane early to arrive at your destination comfortably.
Lee Highway and Dumfries Road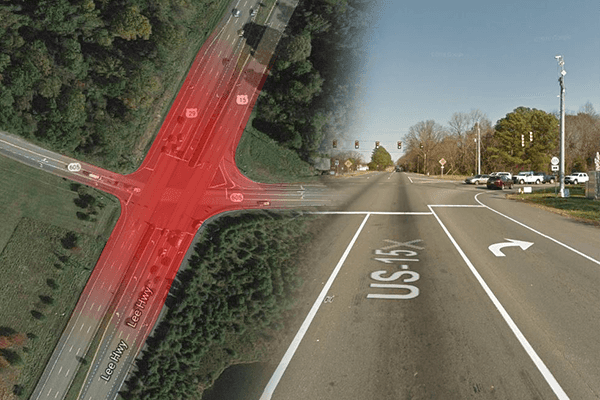 Our second encounter with Lee Highway takes us to the far north end of Warrenton, where it intersects with Dumfries Road. The reason this intersection can be attributed to so many collisions is because a large suburban population of the Warrenton area uses this intersection to navigate to and from their homes.
The west side of the intersection sports a large commuter lot, which creates a lot of morning and evening traffic as drivers from all over Warrenton pass through on their daily commute. Lee Highway is also the best route to travel north into Gainesville and D.C., so traffic will naturally be high throughout the day.
The vast majority of accidents at the Lee and Dumfries intersection happen to be rear-end collisions. The high traffic volume and large central area inside the intersection can cause confusion and challenges for drivers. This, combined with somewhat low visibility from the much smaller road at Dumfries, creates even more potential for confusion.
To avoid an accident at this intersection, be sure to slow down while approaching, as you never know when traffic could halt abruptly. Additionally, pay close attention to yourself and other drivers as you travel through the intersection. Its large spaces with very little on-ground indicators can confuse drivers as well.
Frost Avenue and Broadview/Shirley Avenue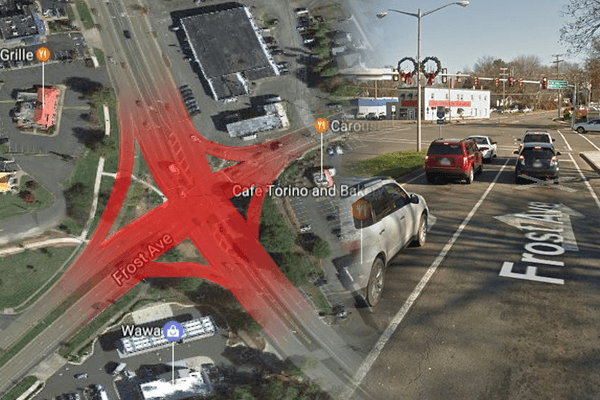 As Lee Highway turns into Frost Avenue when you enter Warrenton city limits, it transfers quickly into a large intersection. The Frost/Broadview intersection is the main path into the town from the southwest as well, bringing traffic from more rural areas into town. It also doubles as an intersection that brings a lot of traffic into downtown Warrenton.
The intersection rests on either corner of the Fauquier Hospital, an area shopping center, and a grocery store. All these locations see fairly heavy traffic throughout the day, especially during commute times as shoppers head to the store.
Collisions at this intersection are a combination of rear-end related accidents and angled accidents. The rear-end collisions can be avoided by paying close attention as you approach the intersection, as you never know when another driver might make an abrupt stop into a turn lane or exit the road into a parking lot.
Angled collisions generally happen during a turn, as drivers may try to turn in front of oncoming traffic when they think they have enough room, but end up getting injured in a dangerous accident. Take extra caution when turning at or near this intersection. If you're driving through, you should take it slow in case another driver gets too bold in their own turn.
Eastern Bypass and Shirley Avenue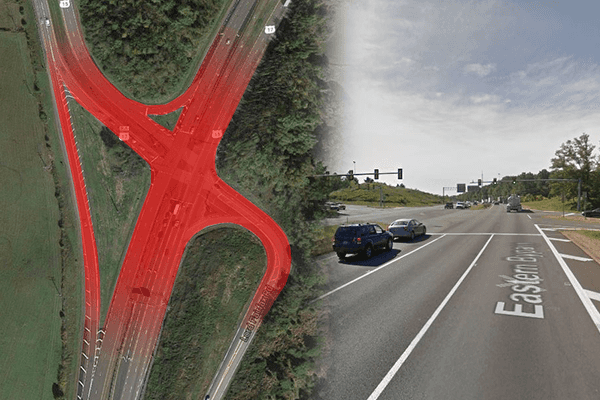 Finally, we have the Eastern Bypass and Shirley Avenue intersection. This intersection is the main entrance into the town of Warrenton from the south and is also the primary intersection to get to Lord Fairfax Community College. It's a high volume intersection and an awkward shape, with the smooth curve of the Bypass meeting the jarring 'S' shape of Shirley Avenue.
One other note about this intersection is that it's the quickest way for many people to get to the Walmart Supercenter, James G. Brumfield Elementary School, and Home Depot. These locations divert traffic through the intersection just so they can turn back to the north.
The most common collision here is rear-ending, for obvious reasons. Eastern Bypass, with a high speed limit of 55 MPH, meets with the stop light, which can cause trouble for drivers who aren't paying attention. Rear-ends are most common right at the heart of the intersection, so be cautious and slow down preemptively as you approach the intersection.
Another common collision here involves the long southbound ramp from Shirley onto the Bypass. This merge involves a sharp angle that has caused several sideswipe accidents over the years. The key to being safe here is to get up to merging speed as soon as you can on the ramp, so you can focus on checking if you're clear to merge and adjust your speed accordingly. If you're on the Bypass as someone merges, try to take the left lane so they can merge more easily on this challenging on-ramp.
At the end of the day, Warrenton is one of the safest cities to drive in. Thanks to our incredible police department for keeping our roads a safe place to drive. Over the past 12 years, the number of accidents recorded on the Department of Transportation's data was relatively small. As for these intersections and any other intersection in our great town, just be extra aware and cautious as you travel through them. You'll keep your vehicle happy and your family safe.
At Safford of Warrenton, we're proud to offer a vast award-winning selection of safe vehicles. Our 2017 line of 5-star rated vehicles includes the Chrysler Pacifica, Jeep Grand Cherokee, Dodge Challenger, and Charger. They're all designed with your family's safety in mind. Shop our full range of vehicles today.
Let's do our best to work together to keep Warrenton roads as safe as possible!