Roll Up Your Sleeves For These Summer Swiss Rolls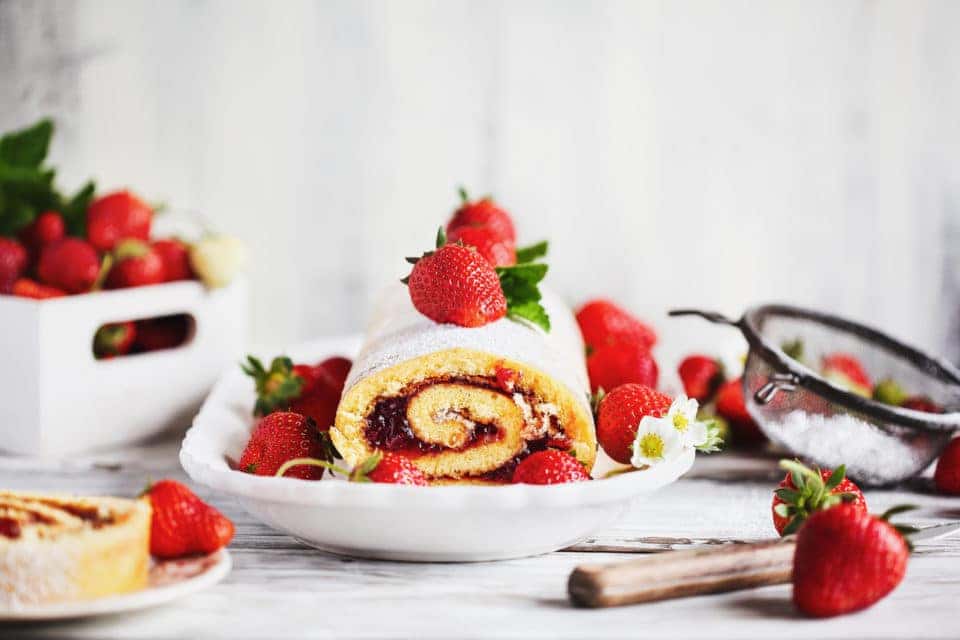 If you're looking for a light, refreshing summer dessert that lets you stretch your baking skills to the next level, consider making one of these sweet summer swiss rolls.
As far as tools go, swiss rolls aren't hard to make as long as you have the right tools on hand. For these recipes, you will definitely need a jelly roll pan, and you'll have an easier time whipping the eggs if you have a stand mixer.
This swiss roll is filled with a cream cheese frosting that is flavored from strawberry reduction to keep the moisture level low so that it doesn't make the cake soggy. The cake itself is really easy to make and uses whole eggs rather than egg whites, so it's a perfect beginner Swiss roll if you've never worked with meringue/whipped egg whites before!
Raspberry, lemon, and vanilla combine to make this delicious summer Swiss roll. This recipe also teaches you to create beautiful pink and yellow stripes with the batter by making a thicker version of the cake batter that is colored with food dye, piped into the jelly roll pan, and refrigerating it before pouring in the rest of the cake batter. The filling in this stripey roll is made with whipped cream, lemon curd, and fresh raspberry. If you want your whipped cream to be more stable and last for a week in the fridge, you can melt a bag of mini marshmallows and add it into your cup of heavy cream as it's whipping.
Take a taste trip to the tropics with this light, airy summer Swiss roll. The cake batter utilizes whipped egg whites and cake flour, which makes it much lighter than a lot of other Swiss roll recipes. This recipe uses coconut milk powder, which can be tricky to track down stateside. Instead, you can use 150ml of full-fat coconut milk in place of the heavy cream and powder.
You might also like: 5 Tips For Achieving A Striking Garden
Another tropical tastebud treat, this passionfruit mango Swiss roll is easy to make while packing in a ton of flavor. It's filled with sweet buttercream and topped with a mango-passionfruit curd, more buttercream, and fresh mango pieces.