Reasons why the 2017 Chrysler Pacifica is the Minivan of the Future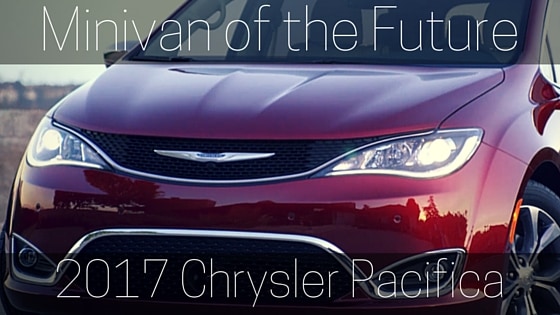 There's a lot of versatility when it comes to the modern day minivan. Hauling power, passenger capacity, technology and safety features. There are many great
kid-friendly features
, and also impressive
tech innovation for adults
. But does a minivan ever have enough of those features in the right combination to have a
cool factor
? We think the all-new Chrysler Pacifica does exactly that.
They might as well have called this van the Chrysler Intergalactic because it's as close as 21st-century parents will ever be to loading the kids up into a spaceship and flying off to their destination. Here are a few reasons why:
1. UConnect Touchscreen and Theater

Dual 10" screens. Blu-ray power. Easy device connectivity. 20-speaker surround sound. Inject all that into the touchscreen "brain" in the heart of the dashboard and the 2017 Chrysler Pacifica has everything you need to feel like you're strapped into a mobile movie theater.
Control your system with voice-activated commands and a fully customizable layout of apps to make you truly feel like the captain of your ship.
2. Active Noise Cancellation

In addition to seeing some spectacular views out of the tri-pane panoramic sunroof, you can still feel like you're enjoying the comforts of home. The 2017 Chrysler Pacifica lets you see the world while locking you in the ideal climate for your journey.
Enjoy the quietest ride of your life with active noise-canceling technology that keeps the road noise out and allows you to fully take in the view.
3. Nearly-Autonomous Driving

Advanced radar, video sensors, and automatic speed management don't just feature on the U.S.S. Enterprise from Star Trek. They're also features found in the all-new Chrysler Pacifica.
The Pacifica won't achieve Tesla levels of autonomy yet, but if you have the right settings turned on the minivan will end up doing most of the heavy lifting, allowing you to really crank up the tunes and enjoy time spent traveling with your family.
4. First-In-Class Hybrid Technology

If you want to make your 21st-century family spaceship a little more guilt-free, the Chrysler Pacifica also has a hybrid option to help save the earth with every grocery trip. In addition to being friendlier to the environment, the hybrid Pacifica also makes your ride just that much quieter and smoother. With 80 MPGe and a 530-mile range, you'll be smiling about more than just your reduced emissions.
There are many more reasons to be impressed with the future-proofing Chrysler put into their new Pacifica, but these four were our favorites. Find more things to love about the 2017 Chrysler
Pacifica
on their website.
If live in the Warrenton area and are interested in trying out a Pacifica for yourself or purchasing one for your family, you can check out our
inventory of new vehicles
today. Give us a call at (888) 541-8750 and we will help you find just what you're looking for!