Ram 1500 Tradesman: V8 Power Meets Value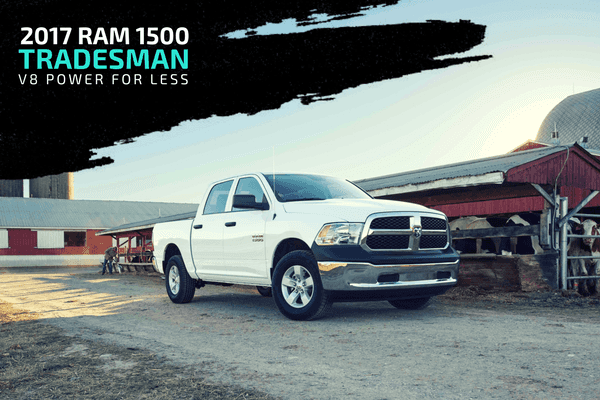 Everybody wants it. The rumble of the engine, the pulsing power under the hood. Dodge and Ram understand the need to feed your itch for a V8 engine in your next truck. The only downside to owning the brimming muscle of that V8 monster engine is the price… High-end muscle cars and big trucks give you that raw feeling of power, but at a cost.
There is, however, a saving grace to obtaining that V8 power on a smaller budget.
Have you heard of the 2017 Ram Tradesman? The Tradesman is the backbone of the Dodge truck legacy. From self-employed construction workers to dads on a budget, the Tradesmen has been crushing tough tasks and being the most valuable tool outside of the toolbelt for decades. It comes bell-and-whistle-free on the inside, but where it lacks in fancy 8-speaker surround sound tech or touch screens, it makes up for in raw power and ingenuity.
A V8 Tradesmen even offers the option for quad cab and extended bed varieties, to suit any human or cargo needs, at a price that is far friendlier for a budget-conscious family.
Did we mention it's one of the most pocketbook-friendly V8 trucks on the market? Well, it is. It's not only better on your budget, but it's also just better than competing V8s from other manufacturers. Let's take a look!
Best in the Pack? Comparing Ram, Ford, and Chevy Work Trucks
Ram isn't the only manufacturer with somewhat budget-friendly work trucks that are sporting V8 engines. Ford and Chevy both offer similar models as well. But which one is better?
Here at Safford of Warrenton, we might be just a bit biased, but the numbers don't lie! The 5.7-Liter V8 HEMI® MDS VVT Engine under your Ram Tradesmen clocks out at a whopping 395 horsepower and 410 foot-pounds of torque. It edges out the Ford and easily cleans up Chevy on its road to the most powerful work truck engine.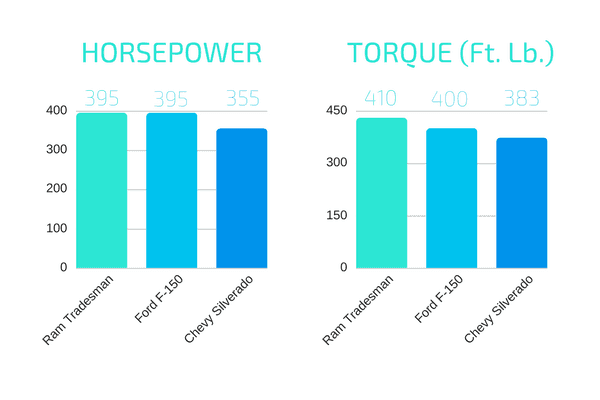 Things don't stop there though. The Ram is also cheaper than the Ford F-150 work truck, making it the most affordable V8 engine in a modern pickup truck. The Dodge HEMI V8 is the perfect amalgamation of value and technological feats.
2017 V8 HEMI Ram Tradesman Features
The Ram Tradesman's 5.7-Liter V8 MDS VVT Engine includes Fuel Saver Technology, which allows it to eke out 21 highway miles per gallon, which again edges out Ford's V8 F-150 work truck, which earns a mere 18 highway MPG.
The Tradesman also sports some features that improve towing, for when you really want to put that beastly HEMI to work. The engine oil heat exchanger keeps your motor and its related appendages cool when hauling heavy loads. Regulated engine temperature prevents unneeded strain and wear on the engine and surrounding bits, increasing the life of your vehicle. To double-down on that philosophy, Ram has also included what they call Heavy Duty Engine Cooling, which helps vent excess heat out from under your hood more quickly.
The Tradesman is also no slouch when it comes to warranties either. With a 5 year, 60,000-mile warranty on the powertrain and an equal length of time for roadside assistance, you can unleash your new V8 out on the road with confidence.
If you want true V8 power under the hood in a new vehicle, but just can't quite stretch for a bigger, more tech hungry truck, the Ram Tradesman is the perfect option for you. After all, it's not about the bells and whistles, it's about taming that behemoth under the hood. Don't let it slip away again.