Parent's Guide to Teaching Safe Teen Driving in Northern Virginia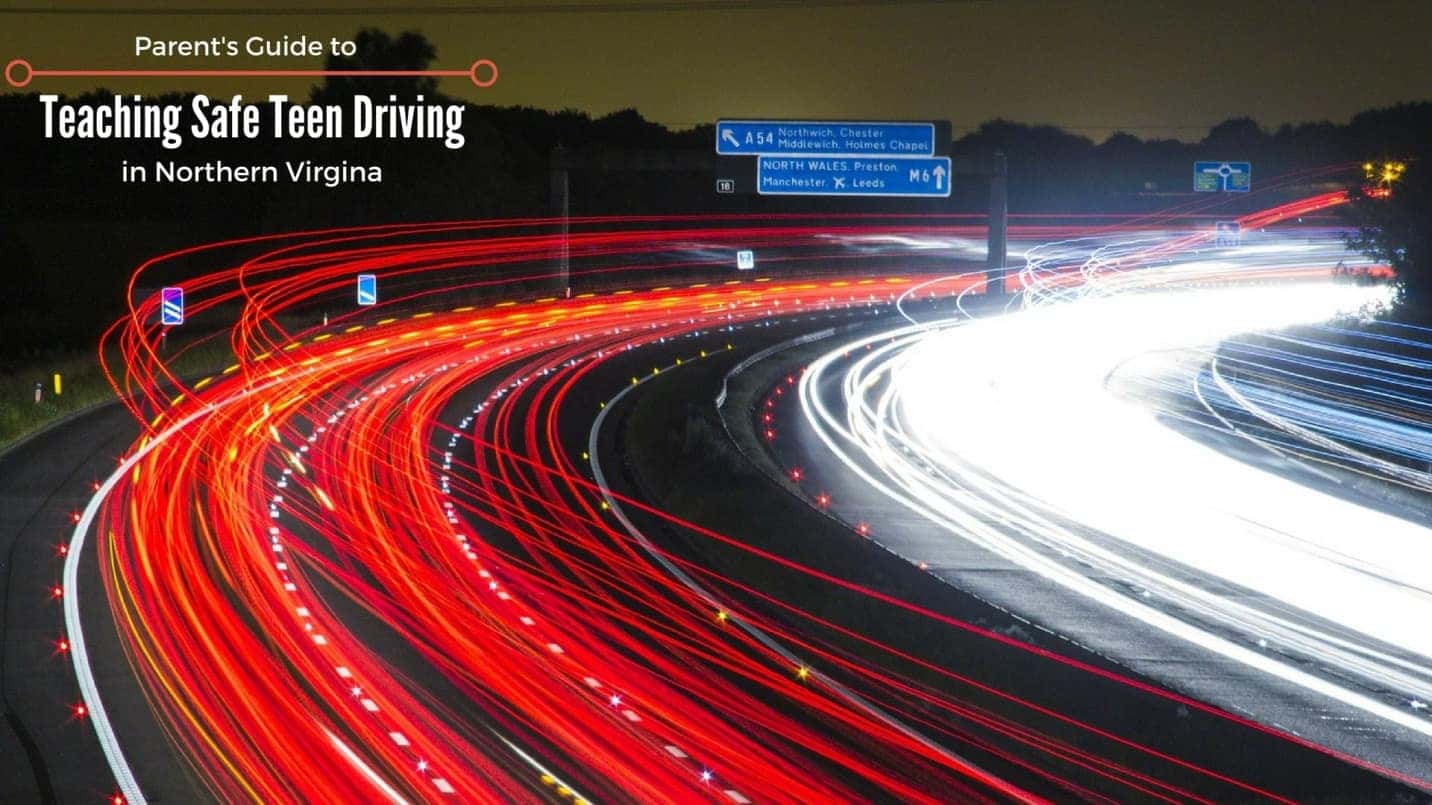 Often the single most important moment in your teen's life is when they receive their driver's license the first time. They see the freedom of the open road and a pathway to adulthood.
At the same time, you see obstacles and danger around each bend of the road.
You know motor vehicle crashes are the leading cause of death for U.S. teens, and you want to make sure your teen isn't among the ones whose lives are taken lives before they reach adulthood. In Virginia, more than 11 percent of all crashes involved a driver 16-20 years old.
"Driving is a complex task, even for those of us who have been driving for years," said Brandy Brubaker, a spokesperson for the Virginia Department of Motor Vehicles. "That's why we encourage parents to take an active role in the first years of your teen's driving, and set a good example by following the rules of the road, always wearing your seat belt, and never driving distracted."
Do you know Virginia's laws?
There are laws in Virginia to help keep teenagers safe. Those laws include zero tolerance for underage drinking, curfew restrictions, passenger restrictions, and the prohibition of cell phones and other communications devices. The Virginia Department of Motor Vehicles has information about all of the restrictions.
To begin the process of getting a formal license, drivers must start with a permit. There are many rules and regulations around legally learning to drive in Virginia. Once the requirements have all been met, drivers under the age of 18 must attend a court ceremony where they will receive their permanent driver's license.
Virginia's curfew laws require all drivers under the age of 18 to be off the road between midnight and 4 a.m. The only exceptions are for driving to or from work, if they are with a spouse or parent over 18, traveling to a school, religious or civic event that is supervised by an adult, or in case of an emergency call when they  volunteer as a firefighter or rescue squad personnel.
While under 18, drivers may only carry one passenger under the age of 21 unless accompanied by a licensed parent – or other adult guardian – in the front seat. Once a driver has been licensed for one year, they may carry up to three passengers under the age of 21 if they are going to school sponsored activity, there is a licensed driver older than 21 in the front seat, or if it is an emergency.
From 2010 to 2014, 795 alcohol related crashes occurred involving drivers younger than 21. Even if teen drivers don't crash, the law in Virginia has a zero tolerance policy for underage drinking. The penalty for anyone under the age of 21 who has been caught driving under the influence of alcohol includes losing their license for one year, fines, and community service.
Virginia law dictates that no driver, regardless of age, is allowed to use a cell phone. It does not matter if the device is hands-free or not. The only lawful usage of a cell phone is for an emergency when the driver has parked the vehicle.
What you can do as a parent
The first thing you can do as a parent to help your young drivers stay safe is to lead by example. If they have seen you following the rules of the road, they are more likely to follow the rules themselves.
If your teenager has seen you wear your seatbelt, they are more likely to put theirs on before driving. In 2014 there were 50 crashes resulting in injuries or fatalities in Faquier County. Be the example for your young driver and their friends.
Another piece in the safety puzzle requires a safe vehicle provided for your teenager. Whether they are driving your vehicle, receiving hand-me-down wheels, or saving up to purchase one for themselves, some vehicles are simply safer than others. High-performance engines and sport utility vehicles with a high center of gravity are prone to cause problems for young drivers.
Keeping the vehicle safe also requires proper maintenance of the vehicle. Proper tires, brakes, and lights assist many other systems in the vehicle. In fact, the state of Virginia requires a safety inspection of each vehicle on the road annually. These inspections cost $16, must be done with a licensed professional, and cover the safety of the entire vehicle while it is on the road.
Taking the direct route
At Safford of Warrenton, we want you and your entire family to help our community stay safe. Teach the young drivers in your life all of the things mentioned above and the information in the infographic Nine Actions to Minimize. Celebrate National Youth Traffic Safety Month in May with your teens and preteens. Have conversations about why safety on the road is important.
Always remember the youth of our community have their eyes on you. Are you setting the best example?