Chrysler Pacifica: The Modern-Day Minivan
We know, we know – minivans have gotten a bad rap over the years. But the minivan has changed and evolved with the times, and the Chrysler Pacifica is proof positive that the minivan is back.
Modern, tech-savvy, and – yes – stylish, today's minivan bears no resemblance to your mom's old family hauler. The Pacifica is a minivan in technical terms only. With its upscale interior, incredible array of high-tech features, and comfortable ride, the Pacifica is ready to singlehandedly obliterate the dated stigma and show you all the amazing things a minivan can do.
If you're looking to depart from the crossover crowd and get everything you need and want out of your family vehicle, then the Pacifica certainly deserves a closer look. In case you need another reason to check it out in person, consider that it also carries an exceptionally reasonable price tag – especially considering all the value that's packed inside!
When you're ready to see the Pacifica in action, explore its features and trims, and find out how much you can save on this amazing modern-day take on the minivan, head to Safford of Warrenton. At our Manassas-area dealership, you'll find a huge selection of new vehicles from Chrysler, Jeep, Dodge, and RAM, plus a well-stocked inventory of high-quality used vehicles – and everything on our lot is priced to sell quickly. Come by for a test drive and let us share with you all the ways we can help you save.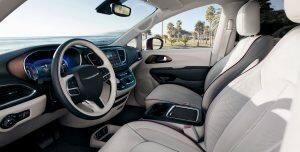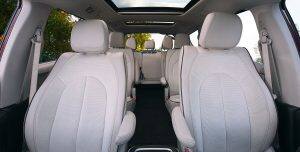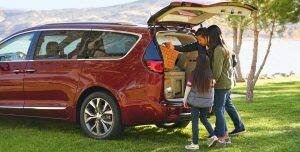 What's New on the 2018 Pacifica?
Following the Pacifica's minivan debut in 2017, you might think there wasn't much that the following model year needed to improve upon. But it did anyway, with the 2018 Pacifica offering enhancements and upgrades in several ways that make it even more appealing to all types of drivers.
For one, a new trim has been added to the 2018 Pacifica lineup. The L trim is the new base model that joins the LX, Touring Plus, Touring L, Touring L Plus, and Limited trims to give you a wide selection and enable you to get the perfect combination of equipment and amenities at a price that works with your budget.
The technology options in the 2018 Pacifica have also expanded with the addition of desirable features like Apple CarPlay, Android Auto, and a Wi-Fi hotspot. Enriching the already remarkable selection of technology equipment in place in the Pacifica, these features add even more inherent value to this feature-loaded minivan.
There is also a new hybrid version of the Pacifica. Chrysler calls it "America's First Ever Hybrid Minivan," and it promises exceptional fuel economy that will boost the Pacifica's value further.
The History of the Chrysler Pacifica
The Pacifica has not always been the modern-day minivan it is today. When it debuted in 2004, it was a crossover vehicle built on the same chassis as Chrysler's minivans, powered by a 3.5L V6 engine. In this incarnation, the Pacifica stuck around until 2008, when it was dropped from the lineup.
Almost a decade later, Chrysler resurrected the Pacifica in its new minivan form in 2017. As a replacement for the Chrysler Town and Country minivan, the Pacifica emerged with an upscale interior and a huge selection of cutting-edge technology features and comfort and convenience amenities.
Another milestone in the Pacifica's history was the introduction of a Pacifica hybrid model in 2018. Chrysler claims this to be the first hybrid-powered minivan on the market, and it adds stellar fuel efficiency to the Pacifica's value-rich attributes.
Why Purchase or Lease a Pacifica from Safford of Warrenton?
Depart from the crossover craze with the ultimate family minivan, the Chrysler Pacifica. Come see it in action with a test drive and an up-close exploration of all of its available trims at Safford of Warrenton, your source for brand-new Chrysler, Jeep, Dodge, and RAM vehicles at amazing prices near Manassas, VA.
Check out our fantastic inventory online and make note of your top picks. Then head to our dealership, conveniently located at 7308 Cedar Run Drive in Warrenton, VA, to test drive your favorites, choose the one you love, and get an amazing bargain. We can't wait to match you up with your perfect vehicle.