Northern Virginia Jeep Show and Shine 2016: 4 Reasons You Need to Attend this Year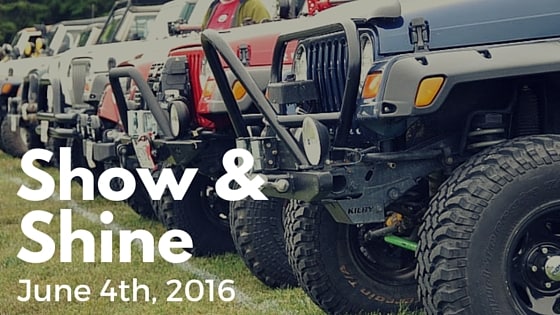 Are you ready for one of Northern Virginia's biggest Jeep events of the year? It's almost time for Show & Shine 2016, and we'd love to see you come out to soak up the sun and take part in activities for the whole family! We hope you can join us June 4th at Fauquier County Fairgrounds.
Safford of Warrenton is a proud sponsor of Show & Shine, and we wanted to share some of the events we're most excited about this year. Haven't heard of Show & Shine? Here's the rundown:
What is Show & Shine?
Traditionally an event where owners of similar vehicles come together to shine and show off their vehicles, the Jeep world has a little-added spin on the event, especially here in Northern Virginia. While we still want people to register and show off their slick wheels, we have specific events and contests specifically for proud Jeepers. Apart from awards and contestants for every type of Wrangler, we also have categories for other Jeep models.
So without further ado, here are some events you can't miss out on at this year's Show & Shine:
Jeep Judging and Awards

As mentioned above, Show & Shine involves judging and awards. The winners get some slick trophies, and all votes are cast by the attending audience. You can meet and chat with all the Jeepers who brought in their own vehicles to compete as well. That's a great way to pick the brain of someone whose Jeep you find particularly impressive!
Some exclusive categories are listed here, which don't fall in with the traditional "best make/model" area.  One that's special to us is the "Extreme Jeep" category. Any Jeep with four or more specific modifications is eligible to compete.  Additionally, we have these other competitive categories:
Cleanest/Dirtiest Jeep
Most Used and Abused Jeep
Best License Plate
People's /Dealer's Choice
Think your Jeep has what it takes to win? Register now and see how you compare.
Car Crush

Ever had dreams of flying high at a monster truck rally or demolition derby? This year you'll be able to take your Jeep over the top of some cars (and release any pent-up road rage).
Bring your camera as this moment would be a great opportunity for a photo op, and you know your social media photo needs a refresher!
RTI Ramp & Teeter Totter

Test yourself (and your Jeep) with a few of our classic events this year:
RTI Ramp: Get your Jeep's annual flex check up! The RTI (ramp travel index) will give you a true measurement of the effectiveness of your transmission articulation. Your rig will be scored in the process, and the top scores will go up on the NOVA Jeepers site after the event ends.
Teeter Totter: Regain your balance: with our teeter-totter event, you'll be able to practice throttle control as you attempt to keep your Jeep suspended in the middle of this simple machine.
General Raffle for Prizes

We're giving out tons of prizes this year! For just $1 per ticket or $20 for a "wingspan" of tickets, you'll have plenty of opportunities to put your hat in the ring. It's a great chance to help Show & Shine grow for next year, while giving yourself a chance to win big.
Separate from the general raffle is the 50/50 raffle. Proceeds from the 50/50 raffle this year will be split with the organization 4 Wheel to Heal. They're dedicated to taking wounded veterans to off-roading events. Their motivation is respect and love for the veterans that fought for our freedom. They want to boost morale and give our wounded warriors unforgettable experiences.
That's just a few of all the great events we have lined up.
It's shaping up to be a spectacular 2016 Jeep Show & Shine here in Warrenton, and we hope you'll join us June 4th for the festivities.
If you're itching to get your own Jeep into the contest, for $25 you can pre-register online or register at the show (please arrive early).  If you're new to the area or haven't gotten involved with the community yet, it's worth your time to get connect with the Northern Virginia Jeepers Association (NVJA) and meet like-minded Jeep enthusiasts! They've always got great events on the horizon.
Finally, if you are a Jeep enthusiast who is looking for your next (or first) Jeep, why not take a look at our new and used inventory and see if you can find the perfect ride?
Already have a Jeep and looking to beef it up? We offer a wide selection of Mopar parts and accessories, as well as Jeep lift kit service to get your ride jacked up and
Be sure to share photos from the event on our Facebook page, and most importantly, have a great time!