Mom's Guide to Carpooling
Mom's Guide to Carpooling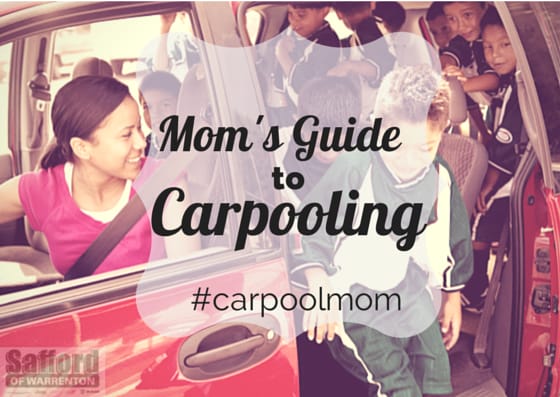 When you are piloting a minivan of squealing kids, it is hard to remember why you signed up for carpool duty. So when a kid you didn't even give birth to criticizes your driving or a group of first-graders belts out an off-key version of Let It Go for the fourteenth time, it is helpful to remember why carpooling is awesome.
It takes a village to drive a child.
Juggling school, kids' extracurricular activities, group memberships and everything else modern families has on their plates can be difficult. And, with about 60% of families having two working parents, there's less time than ever to get everything done.
In addition, spending time with your kids and their BFFs in the car will give you a glimpse at the interactions and relationships that your son and daughter have outside of the family, and you have front row tickets (quite literally) to observe and participate.
Why carpool? It saves time and money.
Gas prices throughout the US hover around $3.50 a gallon; spending on fuel now eats up an average of 4% of the average paycheck.
And time is as precious a commodity as ever. The Bureau of Labor and Statistics says that 59.1 percent of American families have parents who both work. Carpooling can help cut down both the time each parent invests getting kids back and forth to activities and lessen the bite that fuel takes out of the family budget.
It takes a bit of finesse to get carpooling to work effectively and efficiently, but you are a mom and finesse is your game.
Finding Other Carpooling Moms (or Dads)
Ever spend every week bringing your kid to the same activity, only to learn during the last week of the season that another teammate lives a block away? With magnet programs, charter schools and public academies, it's harder to keep track of who lives where than it was when life rotated around neighborhood schools.
Finding carpooling partners takes a much more dedicated and organized search than it did in the past. Thankfully, there are also technological tools now that weren't available before. Often, the best place to start seeking carpooling buddies is in the email list, Facebook group or other online group dedicated to the team or class. Share addresses and emails and friend everyone on Facebook, so that people can find potential carpoolers in their area.
However, these people will be shuttling around your most prized possession. So make an effort to get to know the families before you sent your child off with them. Is it okay to ask about driving records or other questionable activities?
There is a chance that you may offend somebody, but it can give you the peace of mind you need depending on your child/stranger paranoia level (ours is pretty high). Chances are that if you bring it up, most parents may appreciate that you shared your concerns and brought it out into the open.
Planning and Splitting the Carpooling Load
Once you have found good carpooling matches, you'll need to organize a pick-up schedule so that you don't have multiple moms showing up some weeks and kids sitting in the cold (or heat!) on others. Violating the pick-up schedule or flaking out is not an option.
Remember you are not only letting down your kid, but you are throwing off the overloaded schedules and to-do lists of multiple busy moms and dads. Their wrath is not worth it. So if you don't want to be the person who gets the evil eye during the next soccer match, treat the carpool duty as a high priority.
If your group of carpooling moms and dads are tech-savvy, these 6 carpooling apps might make your life much easier. Online sharable calendars, such as Google Calendar, can help keep everyone's days straight.
Carpool Etiquette
Should you ever have to cancel, make sure everybody gets a fair warning. Try to trade if you can, or make it up to the backup drive with a coffee gift card.
In some cases, some parents will have more days that they can dedicate to driving duties than others. In these cases, it can make sense for other parents to contribute extra gas money or make up the favor in other ways. Examples include babysitting or helping with errands on the weekend.
Dealing with Downtime: #CarPoolMom
With being the carpool parent on duty come some wait times while the kids do their activity, or you wait for a gaggle of young teenagers to get ready for, well, anything. However, this doesn't have to be wasted time.
You can turn the downtime into a much-needed break or even make the waiting hours productive. Pay bills, catch up on email, connect with other parents (still the best way to learn all the best dirt on your kids, good and bad teachers, and the latest trends) or read (remember reading books that did not have pictures or bunnies in them?).
One option is to find a comfortable coffee shop near your child's activity. Use a Wi-Fi finding service like Wi-Fi FreeSpot or OpenWiFiSpots to find ones that have internet so that your child can complete homework during the wait.
Subscriptions to eBook lending services such as Kindle Unlimited or free library checkouts with OverDrive allow you to spend time relaxing and reading. Or, you can bring along your own laptop or tablet and spend the time learning a language online or taking a programming class.
If all else fails, just post selfies to Instagram or Twitter while waiting on the kiddos with #Carpoolmom or #CarPoolDad. It will either make your kid very proud or very embarrassed. Either way, you win.
And here you thought to carpool was a dull, slightly painful side effect of parenting.  It's all a matter of perspective.