July 4th Weekend Guide to Washington, DC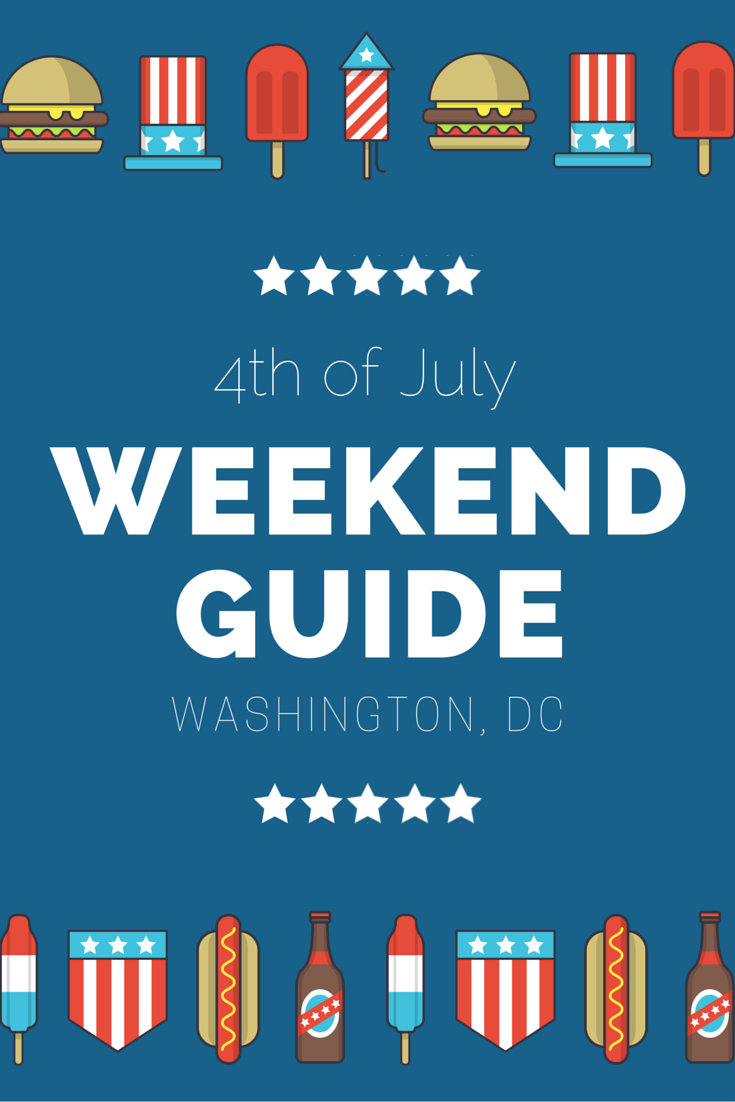 There's no better place to spend Independence Day than our nation's capital!
Just an hour from Warrenton, VA, 4th of July weekend is the perfect excuse to pack up the family and take a weekend road trip to Washington, DC to experience the ultimate in parades, fireworks, and patriotism.
Where to Stay
The River Inn
Location: 924 25th Street NW Washington, DC 20037
Rating: Three-Star
Price per night: Starting at $264
The location is excellent as the hotel sits just a mile from the White House, Washington Monument, Lincoln Memorial and the Kennedy Center. This is the heart of where the 4th of July events will take place. Dish + Drinks is the on-site restaurant with a focus on wine.
The Henley Park Hotel
Location: 926 Massachusetts Avenue NW, Washington, DC 20001
Rating: Four-Star
Price per night: Starting at $235
This historic Tudor-style hotel offers to dine, a tavern, the Blue Bar and a well-informed concierge. The location is perfect for finding the best of DC as this hotel is just a block from the convention center. 
Hotel Helix
Location: 1430 Rhode Island Avenue NW, Washington DC 2005
Rating: Three-Star
Price per night: Starting at $119
Hotel Helix is the perfect location if you're planning on spending the 4th at the Iwo Jima Memorial. Just a 33 minute Metro ride away, you won't even have to worry about the hassle of parking at the memorial. The hotel also offers a unique, fun experience for visitors with colorful room and suites and options for yoga mats and in-room spa services.
Where to Eat
Good Stuff Eatery
Location: 303 Pennsylvania Avenue SE, Washington, DC 20003
Hours: Monday – Saturday 11:00 a.m. – 3:30pm; 5:30 p.m. – 11:00 p.m.; closed Sunday
Price: $
Why not enjoy a taste of pure Americana on your Independence Day weekend? Good Stuff Eatery allows diners to enjoy the nostalgia of handcrafted burgers, hand cut fries, and handspun shakes, all made with the highest quality ingredients. There are multiple locations on the east coast including Capitol Hill, Georgetown and Crystal City.
Ben's Chili Bowl
Location: 1213 U Street NW, Washington, DC 20009
Hours: Monday – Thursday 6:00 a.m. – 2:00 a.m.; Saturday 7:00 a.m . – 4:00 a.m.; Sunday 11:00 a.m. – 12:00 a.m.
Price: $
Just like it says on their sign, Ben's Chili Bowl is a Washington landmark. Established in 1958, Ben's has stayed loyal to its customers by continuing to make fresh, homemade chili with the same secret recipe. Nearly 60 years after opening, Ben's is still considered a must visit by many – even President Barack Obama has stopped by!
District Taco
Location: 3 locations in DC, 2 in VA
Hours: Vary by location
Price: $
District Taco started as a dream two neighbors chatted about over homemade chips, salsa and guacamole in 2009. The duo decided to put their dreams into action with a food truck, now they operate multiple locations in and around Washington DC. With fresh, simple and healthy ingredients, you'll want to make more than one stop.
If you're staying in the Arlington area, we also recommend Taylor Gourmet, Ray's the Steaks, Holy Cow, and Green Pig Bistro.
4th of July Events
Celebrate freedom at the National Mall
The fireworks show starts around 9:00 p.m., but you'll want to make sure to get there early to pass security checkpoints before being admitted. The fireworks are brilliant and light up most of Capital Mall, including the Washington Monument. The 17-minute show is followed by "A Capital Fourth" concert on the West Lawn. We recommend watching the show from the Iwo Jima Memorial. The memorial lines up with the Lincoln Monument, the reflecting pool, Washington Monument, the National Mall and the Capital, making a for an experience that you'll want to relive year after year.
The National Independence Day Parade
Dress for your part in red, white and blue. The parade is located inside the Capital Mall and begins at 11:45 a.m. You'll want to arrive early (9:30 a.m.) to scope out the perfect location. The parade route ranges from 7th Street to 17th Street along Constitution Avenue. There will be floats, marching bands and plenty of excitement! You are permitted to bring a blanket but will have to pass through security. 
Head to the W Hotel to gain access to the POV terrace where you will enjoy a panoramic view of the White House and Capital Mall. Not only is this an excellent place to view the fireworks displays, it's also one of the hottest bars in Washington DC.  You will need to buy tickets NOW as they go fast. The rooms at the W Hotel are already gone. 
Of course, there are plenty of celebrations going on all over the city for the entire holiday weekend including concerts, festivals and block parties! To make the most of your weekend, plan out your "must visit" locations and events and be sure to add extra time for travel, security checks, and crowds.
Have a happy and safe Independence Day!