Historic Sites Driving Tour of Northern Virginia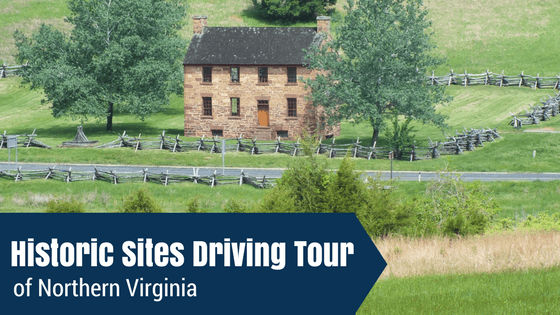 As summer comes to a close and the leaves begin to put on
their annual show, there's no better time to take a scenic driving tour of
Northern Virginia. While you're out and about enjoying the views, why not soak
up a little American history along the way?
Step back in time and experience Virginia's rich American
history through our two-day historic sites driving tour. From Civil War
battlefields to homes once owned by our founding fathers, you and your family
can spend a weekend learning some history and having fun while you're at
it!
Driving Tour Map
Historic Sites Driving Tour Destinations
Stop One: Manassas National
Battlefield Park
A short drive up Route 15 will take you to Manassas National
Battlefield Park, the site of The First and Second Battles of Bull Run, two
major battles of the American Civil War. Park visitors can stop by the Henry
Hill Visitor Center to view artifacts in the museum, take a ranger-led or
self-guided tour of the park, visit the historic Stone House that served as a hospital
during the war, or even see live battle re-enactments. This stop is perfect for
casual visitors and devoted history buffs alike.
Admission: Free
Stop Two: Sully Historic Site (Sully
Plantation)
You'll continue on your route to the Sully Historic Site, a
historic plantation once owned by Virginia's first Representative to Congress,
Richard Bland Lee. Take a step back in time through a guided tour of the main
house and explore the beautifully preserved grounds during the one-hour walking
tour. Sully regularly has events suited for the entire family, so make sure to
check out their event calendar to see what's going on during your next visit!
Tour Costs:
         

Adults: $7.00

         

Students (16 & up w/ valid ID): $5.00

        

Seniors (65+): $5.00

         

Children (ages 5-15): $5.00
Save by taking both tours for only $2.00 extra!
Stop Three: Arlington National
Cemetery
Finish off the day at the Arlington National Cemetery, a
U.S. military cemetery sprawling 624 acres in Arlington, VA. Visitors can
explore the grounds on their own or opt for the bus tour that will guide you to
the main attractions including the U.S. Marine Corps War Memorial, President
John F. Kennedy's gravesite, U.S. Coast Guard Memorial, U.S. Army Gen. John J.
Pershing's gravesite, the Tomb of the Unknown Soldier, and the Arlington House.
A free shuttle service is also available for those wishing to visit a specific
grave site.
Admission: Free
Tour Costs:
         

Adults: $13.50

         

Children (ages 3-11): $6.75

         

Seniors (65+): $10.00

         

Military & Veterans in Uniform: Free

         

Military (w/ valid ID): $6.75

         

Military children (ages 4-12): $3.25
Stop Four: Old Town Alexandria
Start off the second day of your adventure in Old Town
Alexandria, a nationally designated historic district founded in 1749. Once the
home of George Washington himself, Old Town now offers more than 200
restaurants and shops for visitors to delight in, as well as several museums
and beautiful views on the waterfront. Take a stroll down brick-lined King
Street, pop into a historic-building-turned-restaurant for a quick meal, or
visit the Saturday farmer's market for some local fare. Adventure awaits you
and your family in Old Town!
Stop Five: George Washington's
Mount Vernon
Drive about 20 minutes south to visit the next stop on your
tour, George Washington's Mount Vernon. Visitors can tour of the 21-room,
restored mansion, wander through the gardens and grounds, see the Washington
family tomb, and take an hour-long tour of George Washington's Distillery &
Gristmill that he had built in 1770. With its rich history and family-friendly
activities, Mount Vernon has something exciting to offer for both young and
old!
Admission:
         

Adults (ages 12-61): $20.00

         

Youth (ages 6-11) $10.00

         

Children (ages 0-5): Free

         

Seniors (62+): $19.00
Daily and weekend add-on tours are also available at an
additional cost!
Stop Six: Gunston Hall
The last stop on your historic tour of North Virginia is
Gunston Hall, home of U.S. Founding Father George Mason. Begin your visit with
a trip to the Visitor Center where you'll explore highlights of George Mason's
life and the impact of The Virginia Declaration of Rights, which he authored.
Next, take a self-guided tour through the outbuildings on the plantation and
discover replicas of the original kitchen, dairy, smokehouse, and laundry
house. Finish off your visit with a stroll through the gardens or take a hike
along the banks of the Potomac River.
Admission:
         

Adults: $10.00

         

Seniors (60+): $8.00

         

Children (ages 6-18): $5.00

         

Children (0-6): Free

         

Friends of Gunston Hall: Free

         

Ground Pass: $5.00
Need a trustworthy vehicle to take on your tour of Northern
Virginia? Stop by Safford Chrysler Jeep Dodge RAM of Warrenton to check out our
new inventory! For our military and veteran drivers that love a little American
history, don't forget that you can take advantage of our Military
Cash Bonus from Chrysler to help purchase your vehicle.