Dealership Service Center Myths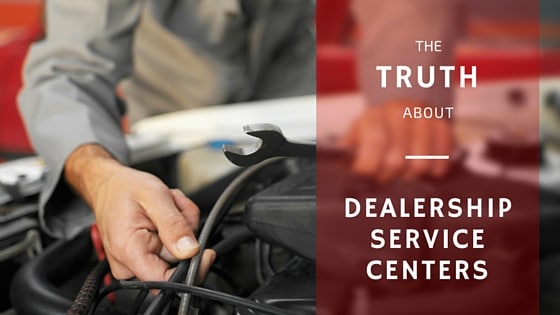 Let's address the elephant in the room – the reservations you have when it comes to having your car, SUV or truck serviced at a dealership. We know there are many misconceptions that may cause you concern when choosing where to have your automobile serviced, so here are our answers for three of the most common myths about dealership service centers:
Warranties are voided if not serviced at a dealership
Perhaps the most prevalent myth is that the warranties provided by the dealership are voided once the customer decides to visit any other service center other than the initial service provider. This is not true. The customer is legally allowed to use a different service provider, as long as the job is done properly. That's where the confusion begins. Although owners are welcome to have their cars serviced by other repair shops, many of them are not trained or certified to work on your specific model and therefore may accidentally make incorrect repairs that void your warranty. Choosing to have repairs made at a Chrysler, Jeep, Dodge and RAM dealer will ensure your warranty is protected and that the problems covered in the warranty contract are fully covered free of charge by our dealership.
Dealerships are more expensive than other service centers
Most car owners believe that services provided by the dealership are more expensive than other repair shops. While it's true that some repairs are more costly than others, in reality, most dealership service centers offer very competitive pricing. Feel free to get estimates from local shops, but don't exclude your nearest dealership based solely on the perception that they will have higher prices. Keep in mind that you often get what you pay for. We have a handy
service scheduling tool
where you can see a good number of services we offer and their prices.
There is no advantage to getting your car serviced at a dealership
The third myth is that there is no real advantage to having your car serviced at a dealership. The truth is that our service center mechanics are trained and certified for Chrysler, Jeep, Dodge and RAM brands, giving them a significant advantage over other local repair shops. You should also be aware that with the ever-changing technology in newer models, while you're getting your car serviced at a dealership, our mechanics will make sure that your car's computer system is up-to-date, keeping you more secure.
If you have any other concerns, we're always happy to answer any and all of your questions. Again, you can also
book your service appointment online
, and don't forget to check our
service specials
for savings on common maintenance like oil changes and wheel alignments.