Choosing the Right Truck Bed Cover for Your Dodge Ram
A pickup can be used to haul so much, but there's some cargo you don't want to leave unattended in the truck bed. One of the best ways to upgrade your Dodge Ram's truck bed is by installing a bed cover.
If you're looking for a truck bed cover for your Dodge Ram in Warrenton, we have several options that may interest you. We even offer installs, so you don't have to lift a finger for a perfect fit on your bed. Our service center will take care of all the work, and you'll have your upgraded rig back quickly.
Why buy a truck bed cover?
There are a multitude of reasons you might want to install a truck bed cover. If you're hauling a load of shopping from the store home and need to stop somewhere else, there can always be that pang of fear with leaving belongings just sitting in the bed, open to the outside air and anyone's prying eyes or hands. Additionally, if you need to move furniture or anything else that will be indoors, a rainy day means you're taking a rain check and delaying a completed task.
With a truck bed cover, all of those fears can melt away. You'll be able to lift the lid, store whatever you need and lock the compartment. No more wet or stolen cargo, and you won't ever have to strap anything down again. It's also a low-profile adjustment, allowing you to keep the shape and feel of your Dodge Ram intact. A camper shell can be a bit obtrusive and obstruct your view. Plus, it doesn't look nearly as cool on the back of your truck.
Having a truck bed cover also improves the aerodynamics of your truck, giving you a nice boost to your precious gas mileage — up to 10 percent! You will have to sacrifice the additional storage capacity you'd have with an open air truck bed, but the added security is well worth the tradeoff depending on what you're carrying.
Folding vs. solid fiberglass truck bed
At Safford of Warrenton, we carry and install the pinnacle of Dodge Ram truck bed covers: Tonneau. The two types of bed covers they sell are folding and solid fiberglass. So which is right for you?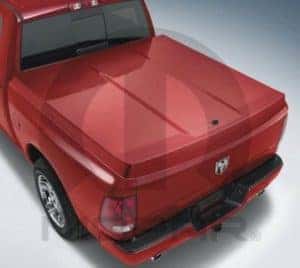 Solid fiberglass is protective and attractive.
They're painted to match any factory color of Ram, so you can keep your beautiful, streamlined look. They're also durable because of the solid fiberglass design. Along with a sturdy lock, these truck bed covers are great if you're looking for something premium, permanent and incredibly sturdy that looks completely stock to the Ram. If having a solid truck bed cover that must be completely locked down while driving doesn't interest you, there are also other options.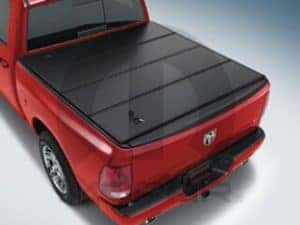 For a more versatile truck bed cover, a folding cover might be exactly what you need.
The Tonneau hard folding cover features a light foam panel design, with a sturdy aluminum frame. The main advantage of this Ram truck bed cover is it's folding design, which allows you to flip the panels back to access everything you have stored inside. Additionally, if you need to haul something that is too large or tall to fit inside the cover, this can easily be removed temporarily.
There are two very distinct truck bed cover options for Ram drivers in Warrenton. We have installed countless numbers of these through the years, and if you're interested in getting one installed on your truck, we're ready and eager to meet your needs.