Cargo Carrier Options for Jeeps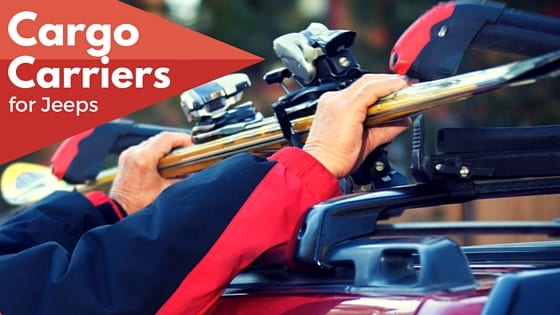 As you're packing your Jeep for that summer road trip, you may find that you have more luggage than you have space, especially if you're taking an adventure that requires equipment like bikes, tents or skis.
To get the most freedom, flexibility, and adventure from your Jeep, here are some of our favorite cargo and sports racks.
Receiver Hitch Cargo Rack
Plug this rack into your 2-inch receiver hitch and load it up with luggage, sports equipment, and coolers for your next camping trip. It's great for trips to the home improvement or gardening warehouse, all loaded up with materials and mulch. It also comes in handy when hauling garbage or Christmas trees, keeping soil and pine needles out of your pristine Jeep interior.
Spring for the
jumbo-sized protective rainproof storage bag
that keeps your gear dry in bad weather and stays tightly secured to the rack, thanks to the built-in straps. Don't worry about the mud splash – just hose this bag down and stash it until your next great escape.
Garvin Industries Trail Rack
Mount this 5-inch-high trail rack onto your Wrangler's tailgate with no drilling necessary, and instantly have space for up to 75 pounds of additional gear.
Kargo Master Congo Cage
This rugged beast safely holds up to 500 pounds of gear. The cage is easy to install with just your basic tools, and goes on and comes off with ease. Pair it with the durable
Utility Crossbars
when your vacation plans include your canoe or kayak, or load it up with lumber or pipes when executing your home improvement projects.
Surco Safari Hardtop Rack
If you drive a Wrangler hardtop, this lightweight yet strong rack system is for you. It features steel bracketry that requires no drilling and easy-to-operate adapters that make installation and removal a snap. Go ahead and fill it with up to 150 pounds of cargo.
Smittybilt SRC Roof Rack
Wrangler YJs born between 1987 and 1995 need great roof racks too, and the textured black Smittybilt fits the bill. Heavy-duty steel tubing and rugged bracketry support up to 300 pounds of cargo. The rack's durable construction ensures that you'll enjoy a long and happy life together, just like your beloved Wrangler.
Mopar Roof Rack Cross Rails
Designed for factory roof racks on the 2011-2015 Grand Cherokee, these lockable cross rails boast an anti-slip rubber pad and a 150-pound weight capacity. Combine them with Mopar or Thule luggage carriers for a secure and well-equipped trip.
Yakima HitchSki Rack
There's nothing worse than looking at a huge dump of fresh snow and worrying about fitting all your equipment into your Jeep. Slip your skis and boards into this handy Yakima rack with protective rubber padding and hit the slopes. The large toting capacity means you can invite along a bunch of buddies and easily transport everyone's gear. The rack holds:
• 6 pairs of skis or
• 4 snowboards or
• 3 pairs of skis and 2 snowboards
Yakima SpareTime Bike Carrier
Cyclists love the snug fit and easy mount of this bike carrier. Attach the Yakima SpareTime right onto your spare tire's mounting bolts and carry up to two bikes along with you without ever looking back.
If you'd like to learn more about ways to add more cargo space to your Jeep, we're here to help. Our friendly and highly qualified
service department technicians at Safford of Warrenton
are happy to give your Jeep the once-over and provide you with some solid options for customization.