5 Ways to Turn Your Dodge Ram into the Ultimate Camping Truck
Summer is a great time to gather up the crew and just get lost in the woods for a few days. There's nothing like lighting up a campfire, roasting some s'mores and getting closer as a family. It's one thing to build these memories in any vehicle, but your Dodge Ram can amplify the experience with a few sleek camping modifications.
We've hunted down some essentials to transform your work or family pickup into the ultimate camping machine on wheels. AutoAnything carries an extensive selection of vehicle camping goods and has your needs covered. No need to buy an expensive camper when you have a Ram!
Transform your truck bed into a tent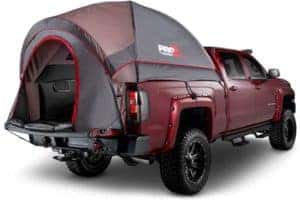 While a night spent under the stars is a great experience, sometimes the summer months can host a plethora of violent little beasts. Mosquitos,
ticks and flies can irk even the savviest mountaineers. Add in the kids and you're sure to have a bad time.
Enter the ultimate pickup truck tent. Elevate your camping trip (literally) by transforming your truck into a tent on wheels. You'll keep the family up off the rocky ground, sealed, and comfortable in this sturdy tent. Here are a few of the highlights:
Polyethylene floor to keep moisture out.
Color-coded fiberglass poles for easy install.
Rain fly and carrying case for easy packing and maximum comfort.
Only one thing could make that experience even more comfortable…
Sink into comfort with a truck bed air mattress
airbedz_lite_truck_bed_air_mattress.jpg
If adding a roof, walls and a door to your Ram wasn't enough, why not look to the floor and change that into an extremely comfortable air mattress? Well, you can! This air mattress fits perfectly flush over your wheel wells, flattening and transforming your entire truck bed into a relaxing space. There's suddenly more than enough room to sleep up off the ground in style. Some great features include:
Optional inserts to convert to a standard air mattress for home use.
12v pump to make airing up the mattress a breeze.
Super useful patch kit for when you accidentally puncture it with your roasting tools.
But even on the simplest camping trips, you aren't going to want to spend the whole time in the tent…
arb_awning.jpg Set up a patio on-the-go with a mobile awning
So you've got the whole "sleeping" thing figured out. Your Ram is now a mobile home, ready for even the rockiest or most uneven campsites. But what if the exterior of your truck could turn into a covered patio? Madness you say? Think again! This retractable awning will allow you to exit your elevated tent and take a seat without ever leaving the shade of shelter. Park near your campfire and enjoy some extra comfort while you tell ghost stories or roast up your all-beef franks. The only thing is you'll need a roof rack to mount this easy-to-use attachment.
Here are some features:
Eight square feet of shaded area.
Telescoping legs help you get that perfect awning height.
ARB backs this up with a 2-year warranty.
Seems like all parts of your Ram are being utilized for camping fun, right? Well, there's one more area that could be taken advantage of…
Take the gas grill for a ride to any campsite
Cooking s'mores over the campfire is a great little treat, but when you actually want to cook a feast or something a little more diverse, it can be a chore. And dealing with those disgusting campsite grilles is a major hassle. But packing along your charcoal and grill is also undesirable. So what's the solution? Well here's another use for your hitch: the mount-able propane grill!
All you have to do is attach the grill to your hitch and you've got a full-featured gas grill right outside your elevated tent. Now you can throw on some burgers, veggies or even a skillet for bacon and eggs, all with your own equipment and of course, attached right to your tricked-out-for-camping Dodge Ram.
Hitch up comfort with mount-able hammock chairs
The trailer hitch is an often unused feature during a camping trip. There are a couple uses for it, however, that can really improve a trip. This one aims to give you and a friend a place to take a load off. These comfortable swing chairs can now line the back of your truck, and allow you to chill out after a long hike or time out exploring the wilderness. Pretty good way to make use of that little piece on the back of your truck!
Having a Dodge Ram is like having a canvas for your perfect outdoor adventuring machine. All you need is a little imagination and your truck can go from a commuter to a family camper with relative ease. If you're still on the hunt for the perfect Ram to for your family to camp, hunt, fish or work with, we have a wide selection of new inventory, as well as used trucks.