2017 Jeep Compass or Jeep Grand Cherokee: Which One Is for You?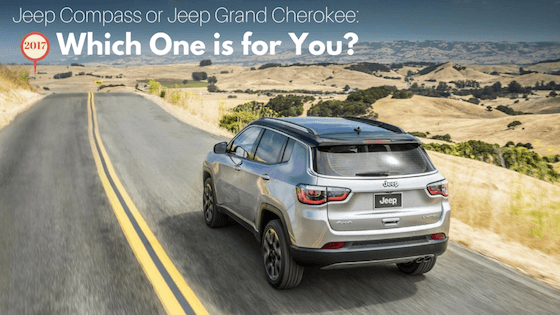 You're considering a new SUV. You need it to fit what's in your wallet and accommodate your lifestyle. Of course, you're looking at Jeeps.
Both the all-new Jeep Compass Limited and the Jeep Grand Cherokee Limited are great choices when looking for a new multi-purpose vehicle. Both SUVs come equipped with premium features such as:
Advanced multistage front airbags
Supplemental front seat-mounted side airbags
Supplemental side-curtain front and rear airbags
Driver Inflatable Knee-Bolster Airbag
Electronic stability control
Four-wheel drive
Rain brake support
LATCH Ready Child Seat Anchor System
Backup camera
Leather trimmed and heated seats
Heated steering wheel
Steering wheel mounted controls for driver's safety
Power front windows with one-touch up and down feature
Overhead console for easily accessible storage
Both 115-volt auxiliary power outlets and 12-volt auxiliary power outlets to keep devices charged
One year Sirius XM
Six speakers standard
Now, let's start talking about how to decide which one is for you by looking at what makes each vehicle unique.
The Jeep Compass Limited is for You If…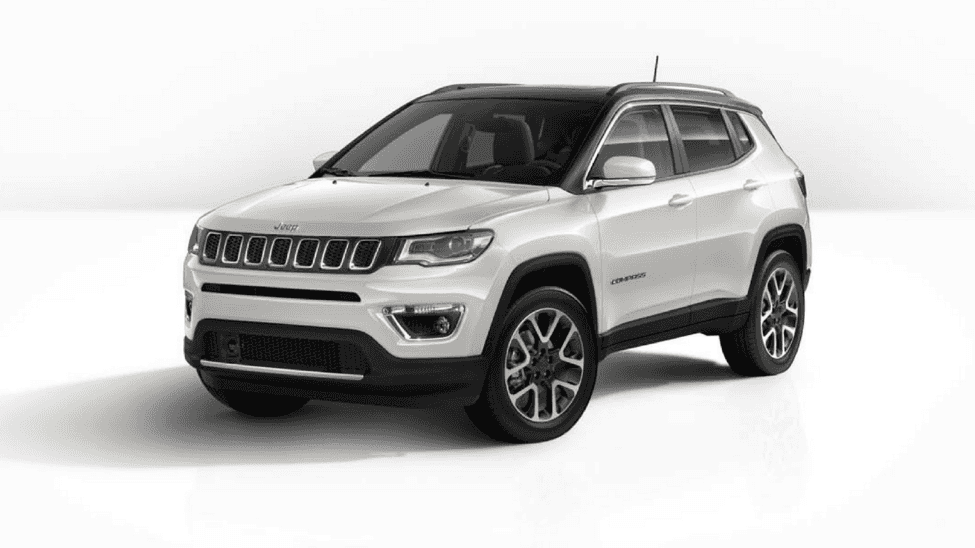 If any of the below points resonate with you, it's time to shop for a Compass.
You love good looks, but what's inside matters too.
With the body redesign in the second generation, the smaller sized SUV looks suitable for both the glamour of the city life and the dust of a dirt road. With the 2.0-Liter inline 4-cylinder engine, the Compass handles what you ask it to accomplish without overdoing it.
You know stopping for fuel wastes time.
The Compass gets about 22 miles per gallon in the city and about 30 on the highway. With the 13.5-gallon fuel tank, the miles will rack up before you must stop for gas. So, whether you're raking in extra cash by driving for a ride-sharing service or just keeping up with your busy life, this SUV has the fuel efficiency you need.
You're good at finding yourself in tight spaces.
If you are navigating in tight spaces such as parking garages or tight parking lots – the Compass' smaller size allows for enhanced maneuverability. You can parallel park in smaller spots while still having almost 60 cubic feet of storage space when the second-row seats are folded away.
You love technology.
The Jeep Compass is Apple Car Play and Google Android Auto capable. There is an audio jack input, an 8.4-inch touchscreen display, Bluetooth streaming audio, and a second-row USB port. Your devices will stay charged, so you can seamlessly enjoy your Monday commute "pumped-up playlist."
Do you have more questions and still not sure if the Jeep Compass Limited is for you? Check out more details and features of the Compass Limited or any Compass.
The Jeep Grand Cherokee Limited is for You If…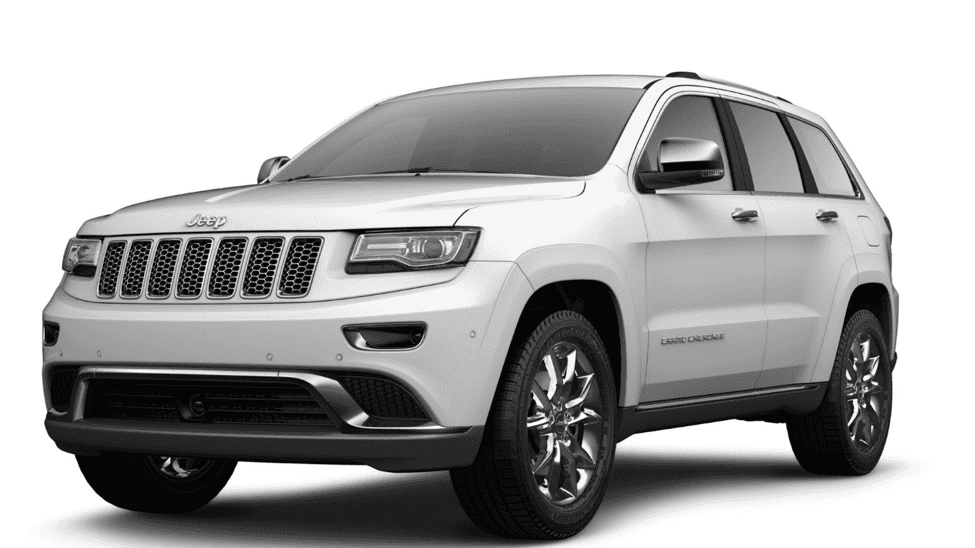 If you say yes to these statements, the Jeep Grand Cherokee Limited may be the perfect vehicle for you.
You need the power to tow or haul.
Do you haul a boat or jet skis to the lake on summer weekends? The 3.6-Liter V6 24-Valve Engine or an optional 5.7-Liter Hemi V8 in the Jeep Grand Cherokee Limited has the power you need to handle those jobs. When you choose this SUV, you'll have a standard towing capacity of 3,500 pounds.
You hate having to stop for fuel often.
The Jeep Grand Cherokee runs an average 25 miles per gallon of gas on the highway and carries a 24.6-gallon fuel tank. The fuel efficiency and tank size provide great range, so you can stop less when running errands with the kids or on long road trips. Every trip is less of a hassle when your family time has fewer distractions.
You enjoy space and luxury.
No matter which seat you sit in, the Grand Cherokee Limited will surround you with space and luxury. Not only are the front seats heated, but so are the second-row seats. You've got more head, shoulder, hip, and leg room in the Grand Cherokee than any of the other crossover Jeeps. Plug-ins and speakers will keep you entertained while you stretch out in comfort.
Safety matters when you're driving your family.
Accidents can happen on any excursion, no matter how short or long. The Jeep Grand Cherokee comes equipped with an additional side curtain airbag for added protection for you and your passengers  Each Grand Cherokee Limited comes with a rear back-up camera, too.
There are systems in place to aid the driver in keeping passengers safe, like electronic stability control, enhanced accident response system, hill descent control, ready alert braking, and rain brake support. The Grand Cherokee Limited also has an optional lane departure warning system and parking assistant system.
Still not sure if the Grand Cherokee is for you? Check out more details and features included with the Jeep Grand Cherokee Limited or any other Jeep Grand Cherokee.
So, which one did you choose?
No matter which Jeep you choose, we cannot only help you find it, but we are here to help you keep it in running in top form. When you have questions, our service center provides a list of frequently asked questions complete with answers.
Can't find your question on the list? Give us a shout or stop by during business hours. We're here to provide high-quality service for all of your Jeep needs.